Aaron Phypers
Verified by our team
Relationship Timeline Of
Aaron Phypers
Aaron Phypers married to Denise Richards on 2018.
Aaron Phypers and Nicollette Sheridan maried on 2015 and divorce on 2018.
The star who stole the limelight after working for Air Emergency and The Leap is Aaron William Cameron a.k.a. Aaron Phypers. Yet, he became even more popular after marrying American media, entertainment personality, Denise Richards.
Phyper's wife Richards is working in the Bravo reality shows Beverly Hills ' Real Housewives. Just like Aaron, Armin Shimerman and Tatsuomi Hamada is also a popular American actor.
Early Life
A Los Angeles, California native Aaron Phypers was born on September 16, 1972. He is an American with a white ethnic background. Additionally, Phypers grew up by their mother, Patricia Phypers, along with his younger brother named Kyle Phypers. As for now, he is 46 years old.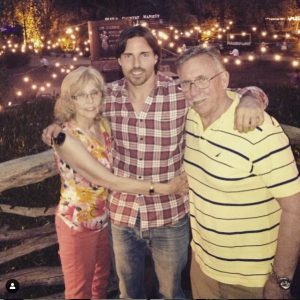 Phypers studied Arts at California State University after completing his high school education. Since Phypers had a keen interest in becoming an actor from an early era, he decided to try out an entertainment career.
Celebrity Wife: Denise Richards
The 48-years-old Aaron's another reason behind the prominence is because of his highly famous wife, Denise Richards.
The 49 aged Denise is an American leading actress, TV personality, and former fashion model. Richards has recognized for her role as Christmas Jones in the 1999 spy film The World Is Not Enough.
The Golden Raspberry Award-winning Denise has worked in other movies and TV shows like Wild Things, Drop Dead Gorgeous, Sex, Love & Secrets, Valentine (2001), Undercover Brother (2002), and more.
Aaron Phyper's Marital Life
Aaron married twice in his life timeline. He was shortly married to actress Nicollette Sheridan, known for playing Edie Britt in the series Desperate Housewives. Phypers and Sheridan tied a knot in January 2015. However, only after six months of the wedding, the couple filed for divorce. Their divorce was finalized in August 2017.
After the divorce, Phypers married his second wife, Denise Richards, as stated above, who is also an American actress. On September 8, 2018, the couple walks down the wedding aisle in Malibu. Overwhelmed by marriage, Richards informed Bravo's The Daily Dish in a declaration,
"I am so happy to officially be married to the love of my life. I can't wait for everyone to go on this incredible journey with me this season on The Real Housewives of Beverly Hills. It's been a wild ride so far!"
In a beautiful strapless wedding mini dress with a flowing tulle skirt overlay made by designer Mark Zunino, the bride looked quite ravishing on the wedding day. Whereas in dark jeans and a white button-down shirt, the groom, Phypers, dressed casually. Also, their wedding ceremony was videotaped for the season of Beverly Hills Real Housewives.
Like Aaron, Denise was also a married woman. From June 2002 to November 2006, Richards was married to American actor Charlie Sheen. The former couple shared two kids, Sam Sheen (born on March 9, 2004), and Lola Rose Sheen (born in 2005). Like them, motocross racer Eli Tomac is also happily married.
As of 2021, the Sheen sisters are living happily with their mother, Denise, and step-father, Aaron. Not only Sam and Lola Rose, but Aaron and Denise are also parenting their third daughter, Eloise Joni Richards. Eloise was adopted by Richards in 2011.
Career Highlights
Luck didn't work in his favor as Phypers couldn't bag lead roles. His debut role was as Patrick Harten in the Air Emergency (2003). In 2009, he appeared in the series Frozen in Flight and The Curiosity of Penny Parker.
Next, Phypers was seen as Brett in Mark Hanson's brief horror comedy film, The Leap in 2011. Similarly, Aaron has also made his appearance in the reality show The Real Housewives of Beverly Hills.
Aaron Phypers Salary & Net Worth
The American actor, Aaron Phypers, through his acting career, has made a good amount of net worth. Phypers has an estimated net worth of around $500 thousand. An actor earns an average annual salary of $50,000. Thus, looking at his experience and job ethics, Phypers could certainly earn a massive amount.
Aaron's spouse, Denise Richards, has a net worth of around $12 million as of early 2021. Her 1999 film The World Is Not Enough earned $362 million worth of box office in a $125 million budget. Similarly, from her appearances in TV series Richards earned enormous earnings.
Birthday Present: Bike
Not to mention that Phypers is a passionate fan of motorcycles. Also, Aaron owns a few costly bike lists. He also showed off his Indian Spring Dark Horse model on 19 March 2018 through his Instagram account.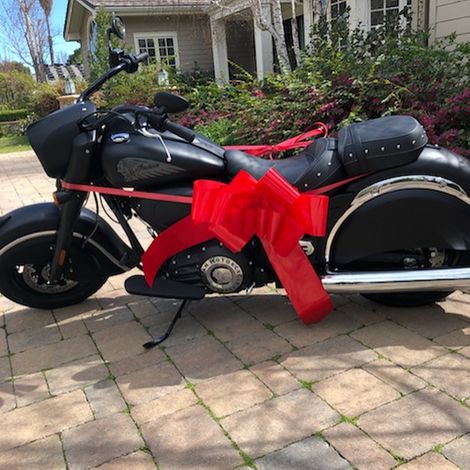 On his 45th birthday, Phypers received the motorcycle as his spouse's gift. And yes, the bike looks very costly, of course. It must, therefore, have cost a valuable price. He is currently living a lavish life spending his millions on his motorcycle and many other value-added properties.
Visit Married Celeb for further updates.