Amie Harwick
Verified by our team
Relationship Timeline Of
Amie Harwick
Amie Harwick is previously is in a relationship with Drew Carey.
Who is Amie Nicole Harwick?
Dr. Amie Nicole Harwick is a licensed family/marriage therapist awarded by the Phillips Graduate Institute. She is also the author of The Women's New Sex Bible. In addition, she is popular as the ex-fiance of popular comedian Drew Allison Carey.
Harwick actually deals with a patient with anxiety, depression, sexual identity, sexual addiction. Dr. Harwick has an important net worth and is a member of several organizations of therapists and counselors.
5 feet 7 inches tall, Dr. Amie Harwick was born in the United States on May 20, 1981. Harwick's age as of 2019 is 38. The details of the parents, brothers, and early life of Amie are still behind the curtains.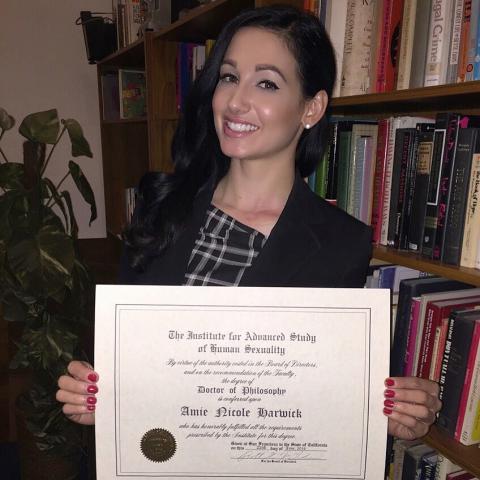 Harwick graduated with a degree in psychology from California Polytech University in 2006. Harwick also received her M.A. in 2011 from Pepperdine University in Clinical Psychology. Later, she received her Ph.D. from the California-based Institute for Advanced Study of Human Sexuality.
Amie Harwick is presently working as a certified marriage and family therapist. She is a psychotherapist and sex therapist specialist. From private practice to community-based mental health facilities, Amie has worked with a variety of customers.
Amie is also a recipient of the Phillips Graduate Institute stipend awards. Not to forget, Harwick is also an author of the book, The New Sex Bible for Women. The book is about the full guide for women to sexual self-awareness, intimacy, and sexual happiness.
Amie Nicole Harwick Personal Life: Husband
Once the beautiful Amie Nicole was in a serious relationship with the host Drew Carey, an actor, voice actor, comedian, director of sports, and game show. They first encountered at a house party in the summer of 2017 and fell in love instantly. Their rumors about dating sparked back in June 2017. The Price is Right host posted a picture with the New Sex Bible for Women author in an Instagram conforming news.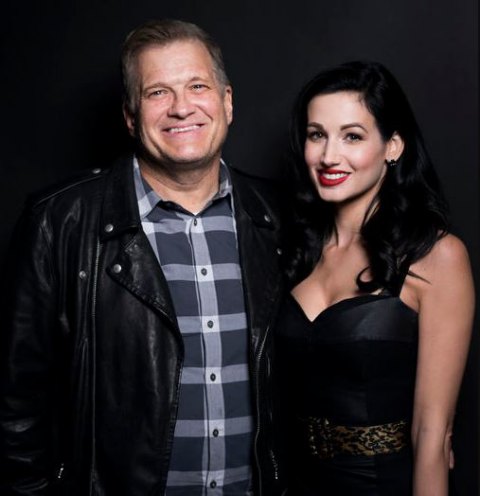 Through their respective Instagram account, the pair made their relationship official. In January 2018, Drew and Amie announced their engagement after dating for a few months.
However, on November 2018, they officially split with each other after less than a year of engagement. The declaration about their separation has not been revealed by either party. So, is Amie Nicole now single? Well, maybe she's living a single life.
Drew Carey was in a relationship with Nicole Jaracz before Amie for four years. However, due to inconceivable differences, Drew and Nicole called it quits. Just like Kurt Ziegler and his former wife Melissa Gisoni, Amie and Drew also has a sad ending to their great love story.
Amie Nicole Harwick Net Worth & Salary
Amie Nicole Harwick has a net worth of $750,000. In addition, she earns about $120,000 in her annual revenue from her counseling profession. Dr. Harwick also offers people, couples, families, adolescents with psychotherapy services.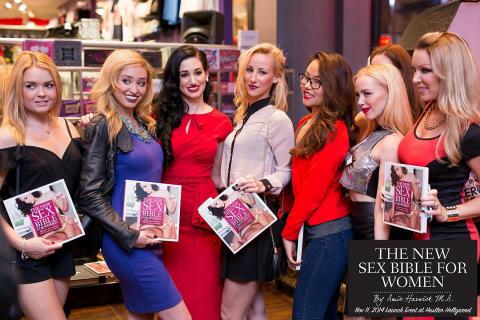 Her therapy orientation is eclectic, involving a mixture of philosophies and methods of distinct kinds of treatment. She also has weekly therapy sessions, and her fee is $200.00 per session.
In addition, Amie offers private practice treatment facilities in West Hollywood, CA. Additionally, she earns additional income from different locations and magazines. Well, Harwick has contributed as a writer to countless journals like Elite Daily and Glam Magazine.
Have a look at marriedceleb, for more celebrity news.