Amy Reimann
Verified by our team
Relationship Timeline Of
Amy Reimann
Husband : Dale Earnhardt Jr.
Amy Reimann married to Dale Earnhardt Jr. on 2016.
Ex-husband : Tommy Cook
Amy Reimann and Tommy Cook took the weeding on 2008 and separated on 2008.
Who is Amy Reimann?
Today we are going to bent a little from our normal stereotype and talk about the Amy Reimann, who is an American interior designer. With her praiseworthy work, she has already stolen the heart of thousands of American. She is also popular as the wife of Dale Earnhardt Jr. She rose to prominence just like Diane Alexander who also got popularity after her marriage relationship.
Amy was born in Texas, USA, on March 25, 1982. Reimann grew up with her two other brothers. Reimann is now 37 and has become an inspirational young lady. She attended Kentucky University for her education from where she graduated with a bachelor's degree in interior design. Reimann was also a member of the cheerleading team in her university.
She spent the next three years as a Project Coordinator-Interiors with Wakefield Beasley & Associates before moving to Miami Design Studio where she continues to work as a Director-Charlotte Studio. Her life was fantastic until she met Tommy Cook, her first husband.
Amy Reimann First Husband, Tommy Cook
In 2008, Amy married her first husband, Tommy Cook, who was a defensive line assistant coach at Kentucky University. There are no details as to how the couple met and fell in love with each other. The couple couldn't even last more than a year because they split up from each other.
There are no details about their divorce. As per some of the rumors she encountered her second husband, Dale Earnhardt Jr., while she was doing some interior job at his place. During that, she was still married to Cook. In 2009, Dale and Amy met his place, and they immediately fell for one another.
Amy Reimann's Married Life with her Second husband Dale Earnhardt Jr.
In 2011, soon after a divorce between Amy and Tommy, Amy appeared publicly with Dale Earnhardt Jr., officially marking the beginning of their public relationship.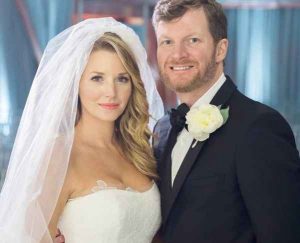 The two stayed together until 2015 after Earnhardt took the courage to ask Amy for the marriage in Germany on a family trip.
In the presence of 300 attendance, they exchanged their wedding vows in front of their friends and family. The couple tied a knot on December 31, 2016. The marriage ceremony was in a lot of racing sport.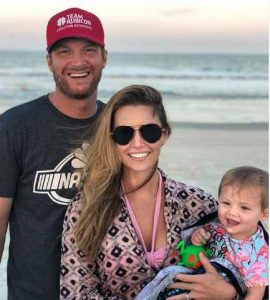 The wedding was held in North Carolina's Childress Vineyards. Even after more than three years of marriage, Amy and Dale are doing very well. As for now, the couple shares a daughter together. Without the rumors of couple splitting and rumors of extramarital affairs, the couple is living a very blissful life their daughter.
Amy Reimann Net Worth
Amy hasn't really revealed the details about earning and net worth till date. On the other hand, Dale Earnhardt Jr., her spouse, presently has an estimated net worth of $400 million.
As per Forbes, he had the total net worth of around $225 million back in 2017, with an average annual income of $23 million. As for now, his net worth has grown up by two folds within three years. Although her husband earns a pretty good amount of money, he hasn't really revealed any details about the house and the cars he owns. As of now, she relishes on her husband's fortune just like Ilyne Nash.
For more detail, have a look at marriedceleb.