Yasmin Vossoughian
Verified by our team
Relationship Timeline Of
Yasmin Vossoughian
Husband : Whittaker Lindsay Clifford
Yasmin Vossoughian married to her boyfriend Whittaker Lindsay Clifford on 2016.
Who is Yasmin Vossoughian?
Everyone has a different taste regarding the partner we want in our life. But what's common is that everybody is looking for the partner's love, career, and support. If you have one, you're sure to be one of the most fortunate. Today we brought you the information of a famous American journalist working for the CNBC network Yasmin Vossoughian who has an incredible family and professional career.
Born on October 3, 1978, Yasmin Vossoughian, turned 41 years old as of 2019. She is Dr. Ahad and Shamsi Vossoughian's eldest daughter. Similarly, Vossoughian belongs to Iranian ethnicity and holds American nationality. She studied at Cornwall Central High School in Orange County, New York. She later went to the Northfield Mount Hermon School in Northfield, Massachusetts and graduated in 1996.
Vossoughian enrolled at the Occidental College, a private liberal art university in Los Angeles, California, in her undergraduate studies after completing her high school. She graduated in 2000 from a Bachelor of Economics and History.
Yasmin went to work at the E! Entertainment Television after graduating as a production assistant. Following the work with E! Entertainment Television, Yasmin became a Style Network producer. SallyAnn Mosey, Vernon Odom, Christie Ileto and Melanie Lawson are some of her fellow journalists.
She received her first on-air job at DTV during that moment, which was an internet television based in Germany. She presently works as an HLN host and producer.
Yasmin Vossoughian Pregnant Before Marriage?
Well, it's true that before getting married, TV star Vossoughian was pregnant. Wondering who is the baby's daddy? Well, he is none other than her own husband. She married her then-boyfriend Whittaker Lindsay Clifford. Yasmin was pregnant for five months while getting married. In the presence of her close friends and family members, the pair tied a nuptial knot in June 2016.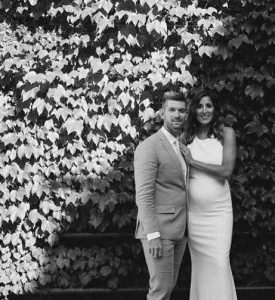 Calculating the birth of her first baby boy born on October 15, 2016, she had already been pregnant for five months while she was married in June 2016. Her baby bump from her wedding gown was obviously noticeable. They named their first child Azur Vossoughian Clifford.
Yasmin Vossoughian Second Baby
After the arrival of her first baby boy, Yasmin couldn't wait any longer to welcome her second child. Vossoughian gave birth to her second child, Noor Ahad Clifford, on August 9, 2018. Yasmin has sucessfully played the role of a perfect mother, wife, and journalist all at the same time.
That's one of the reasons her spouse is in love with the beautiful TV personality head over heels. The pair are living together with two beautiful children. Vossougghian often posts on her social media page a photo of her happy life, husband, and kids.
Yasmin Vossoughian Net Worth
She's been engaged in the journalism industry for many years. This guarantees that from her long-lived career, she has gained a good amount of cash in her bank account. Her net value is estimated at $7 million as of 2019. Her main source of revenue is news and hosting. Since she has worked for many well-known networking firms, she certainly earns more than the average salaries.
A journalist's average wage, according to the source, is $14.57 per hour and $39,571 per year. In addition, a TV host's median wage is $20.17 per hour and $55,593 per year, as well as a television producer's median salaries, is $67,872 per year. So, her salary must lie in between $70,000 to $80,000 monthly.
In addition, her husband Whittaker Lindsay Clifford also earns a decent amount of net worth. Looking at her Instagram posts, we can suppose she and her husband and kids are enjoying her life.
Have a look at marriedceleb for more update.